Create innovative solutions that boost your business to the next level
Learn how Aeegle can help your company
Go paperless and streamline your business operations
with Aeegle Cloud Platform
Custom databases and forms
Make decisions based on information you capture and process on any devices and anywhere. Any application you create on ACP automatically runs on smartphones and tablets boosting your mobility strategy.
ACP runs 100% in the Cloud therefore is easy to start, you don't need to install anything to start building modern enterprise applications.
Are you ready or planning to Go paperless?
How many manual processes, or paper forms do you have in your department or the whole company to capture data?
Aeegle help you take a firm step towards digital transformation in your company, getting rid of manual forms and data capture; ACP allows you to transform any paper forms into modern Cloud business applications that will give you the ability to collect data in any place, any time or any device.
No matter if your employees are on their desktops within the company or outside in the field, ACP empowers you with compelling data entry tools to capture data whenever it gets generated.
ACP allows you to create custom databases for your unique business needs
Quick App Building with Drag & Drop
Save hours of your time with the drag and drop toolset. All you have to do is open down the app requirements, plan the steps and use the app builder to execute your plan. Simply drag and drop the code blocks on the UI to build the app.
Some examples of databases you can create at the light speed with ACP

Sales management

Asset tracking management

Issue tracking forms

Support request form
Reduce the chaos
Make your company more competitive by driving productivity and efficiency
Workflow & approval processes
You can now eliminate all manual processes with ACP's automation and application solutions for Workflow Management
ACP provides you with the easiest way for non-developers to streamline business operations by creating approval processes and workflows with:
Multiple stages
Multiple approvers
Conditions
Notifications
ACP help companies and managers to automate any process that flows across multiple departments, locations and responsibilities in the company.
Be Mobile
Today work is happening anywhere, with ACP's workflows approvers can review, approve or reject requests even if they are not in front of a computer, from any device on any place, bringing a new level of productivity in the office.
Whether it is a simple process or complex one, ACP can handle.
Examples of approval processes you can implement with ACP

Approval for expenditure

Purchasing and Sourcing Process

Vacations and leave requests

Support requests.
Governance, documents reviewing and approval processes, made easy
Go Green, Go Digital with Aeegle Cloud Platform
Document Management
Document Management
You can now create secure and company owned document repositories in the Cloud, Leveraging of Cloud Storage leaders such as: Google and Box.
ACP allows you to create any kind of document repository categories, add workflows to those documents to manage its life cycle.
Also grant access to those documents to the right people and empower your company to digitize huge document repository and large files.
The documents repositories you create will have multiple access levels, versioning, files viewer, custom and unlimited metadata,  also manage important documents that need to be shared with specific people.
Your files will be secure and accessible as never before in the Google's cloud. Integrated with Google Drive, Google Cloud Storage and Box.
Examples of some document based applications you can create with ACP
Your documents driven processes now digital and secured in the Cloud

Contracts management

Operative procedures

HR records digitization
Integrate and talk to systems, now easy as never before
Middleware or web service builder
Any database or form you create on ACP automatically generate an API or web service for models you have just created, empowering ACP to receive information from outside via external applications.
Applications or databases created in ACP provide users with double access HTML5 interfaces for desktop and smartphones and a RESTFul API for external application integration.
Leverage ACP as a middleware platform that will allow you to integrate multiples applications.
All-in-One Corporate Directory in the Cloud
Feed all your applications with corporate data from a single source, Now your corporate data: updated, secured and available for you in the Cloud
Universal Corporate Directory in the Cloud
It is you One place to manage all your corporate data in Cloud, date such as: Employees, Contractors, Locations, Departments, Job titles, cities, etc.
With ACP you can have any other custom data, centralized and secured available to be used by internal or external system via web service.
Master data in the Cloud is your corporate data repository to feed all your business applications in a digital transformation age.
People and common lookup data will be Synchronized and accessible for any App within ACP and external Systems. This Data is can be easy to update from multiples sources via web services.
Whether it is a simple process or complex one, ACP can handle.
Examples:
Employees
Contractors
Locations
Departments
Jobtilets
Country, Cities
Among other corp data
User management
Cloud repository to centralize, store, and manage users from multiple sources; sync user profile data across systems and use them as corporate data in your applications.
Universal People Directory
It is a Cloud repository to centralize, Store people date from multiple sources; allowing you to synchronize people data from multiple systems, and then make them available as a Single source to feed any other Business Applications.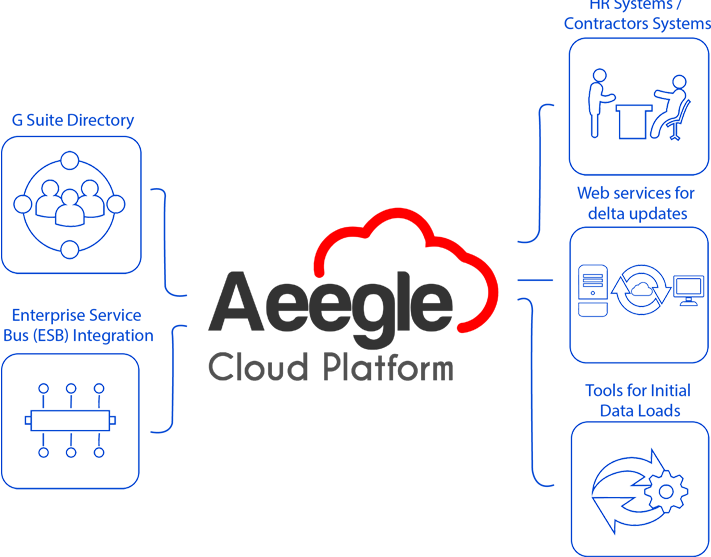 People data from Multi-sources in a Single place
Implement and get a comprehensive employee profile, synchronized and extended by multiples systems such as:
G Suite Directory
Legacy core systems via Enterprise Service Bus (ESB)
HR Systems and Contractors DBs
Web services for Delta updates
Tools for Data Loads
Easy to manage employee life cycle

Store and share files securely in the Cloud
Take advantage of the Cloud Storage in your company with Aeegle Cloud Platform
Cloud Storage
Take advantage of the Cloud Storage in you company, let's Aeegle Cloud Platform turn into your access point to the files storage in the Cloud.
"No more corporate files out of the security of your corporate and sanctioned Cloud.  ACP leverage Drive, Google Cloud Storage and Box to store and backup files"
Do you want to store or share large files among the company in a easy and secure way?
With ACP you can upload files, store them and then share them with the right people.
Another in another company location need a file that you have?  No problem. Share it securely with ACP,  you will be able to securely upload and share the file with the right people.